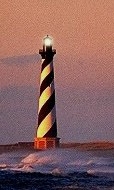 "Who Do Ye Say That I Am?"
S. Hesterman
Judges 13:17-18; Psalm 24:7-10; Matthew 16:13-17.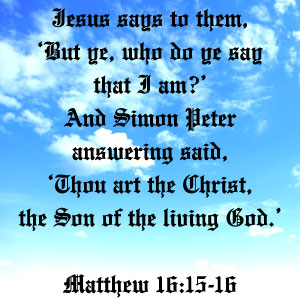 There is an age-old question among men which dates back nearly two thousand years: "Who do men say that I, the Son of man, am?" Men have all sorts of opinions as to who Jesus is. The natural man does not find any beauty in Jesus, that He should be desired or worshipped. We learn that from Isaiah, who writes of Jesus prophetically as the suffering Messiah; to the natural man, there is nothing attractive in that.
The prophet Isaiah writes, "He hath no form nor lordliness", He is "as a root out of dry ground", and "He is despised and left alone of men". The natural man is not interested in a suffering Messiah – he looks rather for a man who exalts himself. You see that in the political machinations of history, in men like Hitler and Napoleon and Julius Ceasar. These kind of men attract the natural man, because man naturally is marked by pride.&nbsp So our natural minds are attracted to a man who lifts himself up in pride and shows himself to be some great one.
But Jesus was entirely different. He came here and was laid in a manger. There was nothing ostentatious about the Lord Jesus, and how He was born. There was no room for Him in the inn. No doubt many persons were coming to be counted in the census, and there was no room in the inn, so He was born in Bethlehem's manger. And there is nothing attractive to the natural man about the way He died either – on a cross, the most despicable form of Rome's capital punishment in those days. He died hanging upon a cross, where men spit upon Him and cast reproaches upon Him. They said, 'You've saved others, save yourself now, and we'll believe on you'. It was a scene marked by shame, reproach, and suffering.
So the Lord Jesus asks the disciples, "Who do men say that I ... am?" Well, Jesus had done great things. He had just fed thousands of persons with seven loaves and a few small fishes, and men saw that He was different than ordinary men. They looked at Him as some sort of prophet: John the Baptist, Elias, Jeremias, or one of the prophets. Indeed all these men were prophets. But the same thing is true of the prophets: Jerusalem was the city that killed the prophets; in the end, the natural man did not accept the prophetic word, although he saw something in the prophet that he couldn't deny.
The Lord appeals to Jerusalem most feelingly. "Jerusalem, Jerusalem", He says, "the city that kills the prophets and stones those that are sent unto her, how often would I have gathered thy children as a hen gathers her chicks under her wings, and ye would not". So even though men might acknowledge that He was a prophet, in the end, they were not ready to receive the prophetic word.
But there is something far more special about Jesus than even about a prophet. It says at the beginning of Hebrews, "God, having spoken in many parts and in many ways formerly to the fathers in the prophets, at the end of these days has spoken to us in the person of the Son, whom he has established heir of all things, by whom also he made worlds, who being the effulgence of his glory and the expression of his substance, and upholding all things by the word of his power, having made by himself the purification of sins, set himself down on the right hand of the greatness on high, taking a place by so much better than the angels, as he inherits a name more excellent than they". You see, the glory of the Lord Jesus shines out in that section. The prophets are given a couple of words about how God had spoken in them (and how valuable they are), but then the writer opens out in this glorious unfolding of the One who is the person of the Son.
And that is what the Father revealed to Peter. What Peter says to Jesus – "Thou art the Christ, the Son of the living God" – was not revealed to him by flesh and blood. Jesus, answering, says to him, "Blessed art thou, Simon Barjona, for flesh and blood has not revealed it to thee, but my Father who is in the heavens". There was a work of God in Peter, a revelation given to Peter, so that he can say truly, on the basis of revelation, "Thou art the Christ, the Son of the living God". What a remarkable thing that Peter should say this!
I believe the Lord Jesus would ask each one of us this question: "But ye, who do ye say that I am?" That is the question in the glad tidings: "Who do ye say that I am?" It is the question that every soul, every person, must answer finally: "Who do ye say that I am?" Because if we fall short, if we just say that He's a prophet or a good man, or if we take no account of Him, what serious consequences there will be for us, not only in our lives now, but eternally. What serious consequences from falling short of God's revealed answer as to Jesus!
John's gospel is written with this end in view, that we should believe that Jesus is the Son of God, and that, believing, we might have life in His name. The purpose of John's gospel is that we might believe that Jesus is the Son of God, and we have these persons who come to believe that Jesus is the Son of God: John the Baptist and Nathanael in chapter 1, the man in John 9, and Martha in John 11. These persons arrive at something solid and definite in their souls as to who this Person is.
That's what the glad tidings are meant to do – to brush aside all the casual feelings and natural feelings that we have about Jesus, and to reach through and bring us to a real transaction with the Lord Jesus, where we come to this wonderful truth, "Thou art the Christ, the Son of the living God".
Peter was very up and down in his history, wasn't he? He makes this confession, but just a bit later, in verse 22, it says that Peter, taking Jesus to him, "began to rebuke him, saying, God be favourable to thee, Lord; this shall in no wise be unto thee". Well, any of us can get away from the transaction that we've had with the Lord Jesus, and I know that I have gotten away from that transaction in my history. Perhaps others can say the same thing. But the Lord Jesus, in His grace, brings us back to a transaction we've had with Him. Peter, early in Luke's gospel, says, "Depart from me, for I am a sinful man, Lord". That was the beginning of Peter's moral history, I believe – he acknowledges that he is a sinner. I believe the Lord's work with Peter really starts from that point.
No doubt the work of new birth commences early in our histories, but this is Peter's first recorded expression: "Depart from me, Lord, for I am a sinful man". So that is meant to be the beginning of our histories with the Lord, that we confess our sins. It says in John's epistle, "If we confess our sins, he is faithful and righteous to forgive us our sins, and cleanse us from all unrighteousness".
That's what the glad tidings are about, dear friends. They are not about some religious organisation. They are not about some system that is set up by men – they are about a Savior whom the Almighty God has appointed: One name, under heaven given among men, by which we must be saved. Indeed, He is the one by whom the worlds were made. He is the Savior we're speaking of today.
Well, we have spoken much of Matthew 16, but we read these two other scriptures that I just want to touch on.
In Judges 13, Manoah and his wife communicate with their visitor a fair bit. In verse 3, the angel of Jehovah appeared to the woman, and said, "Behold now, thou art barren and bearest not; but thou shalt conceive and bear a son", and so on. All this conversation takes place between Manoah and his wife and the Angel of Jehovah, and finally they come to the point where Manoah asks the Angel of Jehovah, "What is thy name, that when thy word cometh to pass we may do thee honour?"
It reminds me of the man in John 9 who received his sight, but who didn't know immediately who Jesus was. The Pharisees asked him where Jesus was (John 9, verse 12) – "Where is he?". He answered, "I do not know". Later, in verse 24, they tell him that Jesus is sinful, and he replies, "If he is sinful, I know not. One thing I know, that being blind before, now I see". This man goes through a similar history in the sense that he has a link with the Lord Jesus, but he doesn't know who He is! Finally, at the end of the chapter, the Lord asks him a question: "Thou, dost thou believe on the Son of God?" He answered, "And who is he, Lord, that I may believe on him". And Jesus said to him, "Thou hast both seen him and he that speaks with thee is he". He said, "I believe, Lord, and he did him homage".
Well, he is like this man Manoah, who has this experience with God, and he finally asks this question. In verse 16, "Manoah knew not that he was the Angel of Jehovah". And Manoah said to the Angel of Jehovah, "What is thy name, that when thy word cometh to pass we may do thee honour?" And the Angel of Jehovah said to him, "How is it that thou askest after my name, seeing it is wonderful?"
Maybe we have had a conscious sense that God has worked in our souls, and maybe we have some impression of Jesus even, some impression of Christ, but then there comes a point in our history when questions are asked. The Lord asked the question in Matthew's gospel, the man in John 9 asked the question, and here Manoah asked the question: "What is thy name?". So it's an important feature in our spiritual histories, dear friends, that we ask questions. Inquire of Jehovah. David was marked by that: He inquired of Jehovah. And as we go through soul exercise, we would surely do well to inquire of Jehovah.
So the answer comes to Manoah: "How is it that thou askest after my name, seeing it is wonderful?" In Isaiah, the name of Jesus is brought forward prophetically: "Wonderful, Counsellor, Mighty God, Father of Eternity, Prince of Peace". What a resource He is for us in time of need, in time of exercise! All of these divine names are given to the Lord Jesus. Wonderful; Counsellor – how much we need counsel at a time like this; Father of Eternity – how stabilising that is; Prince of Peace – in all the sectarian attitudes that there are in Christendom, think of the one who is the Prince of Peace! "The peace of God, which surpasses every understanding, shall guard your hearts and your thoughts by Christ Jesus". Philippians 4:7.
Then we have this verse in Psalm 24. "Who is this king of glory? Jehovah strong and mighty, Jehovah mighty in battle". In John's gospel, we read that Jesus had authority to lay His life down and authority to take it again" (John 10:18). In the cross of Calvary, the deepest human weakness and the most wonderful divine power meet, in the person of the Lord Jesus. What men saw outwardly was human weakness, but divine power was there to meet the whole sin question, to overcome him that had the might of death, that is, the devil. Men didn't see the glory when Jesus died on the cross. They saw a suffering, despised man who was, as they thought, a false claimant to be the Messiah, to be the King of the Jews. But the sign inscribed above him read: "This is Jesus, the King of the Jews". And He rose again triumphant!
The last question here is, "Who is he, this King of glory? Jehovah of hosts, he is the King of glory. Selah". That brings in the blessed truth that God desires that all men should be saved, and come to the knowledge of the truth. You see, it's Jehovah of hosts. Hosts are many persons, and God desires that all men should be saved.
Many are going to be saved, and have been saved, by putting their faith in the finished work of Jesus on Calvary's cross. How wonderful that, in a coming day, every knee shall bow to Jesus! Men are resisting it in this day. The Lord says to the apostle Paul, before he was converted: "It is hard for thee to kick against the goads". That is true of all of us naturally, that we kick against the goads. We don't want to acknowledge the pre-eminence of Jesus. But in a coming day, He is going to be exalted as Head over all. He is going to have the first place in all things. And the gospel is simply presented that He might have the first place in our hearts today, and during the rest of our lives here.
May the Lord bless the word. For His Name's sake.
Preaching of the Glad Tidings.
Warren, NJ, USA. October 24, 1993.
---
Who Do Ye Say That I Am?